CAT | Forced Labor and German Industry
Gert Krell
Postscript, part 2
Fritz Thyssen risked his life and fortune to protest against Hitler's dictatorship and the war, after he had first supported the Führer. Others like Oskar Schindler or Berthold Beitz risked their lives to save potential victims from the deadly terror of the Nazis. They were rare exceptions. We may admire their heroism, but as Jan Philipp Reemtsma says in his excellent book, What Would I Have Done?, we cannot expect people to become heroes and risk their lives to save others. We would probably never be heroes in this sense ourselves.
Yet not requiring that we risk our lives to prevent murder does not mean that we may become murderers ourselves: "We must demand from each other (…) that we do not voluntarily participate in crimes, that we do not report people to the police, that we do not destroy their lives. The civilizational catastrophe of the years 1933-1945 was not that so many people bowed to force and tolerated evil. It was the high degree of free-willing contribution to deeds whose amorality was evident (p. 24-25, my translation)".
There were not too many activities you had to join to avoid your own death. Desertion was a deadly risk, yes, but refusing to participate in the execution of civilians was not. (A cousin of my mother's, who was a young soldier in the war, once told me convincingly that he had deliberately always missed his target when he was supposed to shoot at a human being.) If you helped a prisoner to escape, you also risked your life. But you did not, if you refused to become a watchman in a KZ. I do not know, whether a German industrialist in the arms sector could refuse to "employ" KZ prisoners. (Günther Quandt's initial resistance seems to have resulted more from practical differences with the SS rather than moral doubts.) But I do know that there existed major differences in the ways in which German industry (or German farmers) treated forced labor.
And we must also expect the restoration of the law, admittance of wrong-doing and symbolical as well as material compensation. In this, like almost all other German institutions, German industry has failed again; it has remained widely below minimal standards for much too long. When Berthold Beitz became a senior manager at Krupp after the war, he met with reservations in his new entrepreneurial environment. He was careful not to discuss his humane activities during the war too broadly, because they would have been a painful mirror to his colleagues. This was another cynical dimension of the "cartel of silence" (Norbert Frei, Karrieren im Zwielicht, p. 126).
Footnote 1: Today's papers write about a comment by the Swedish Queen Sylvia, who is of German origin, on her father's activities in the Nazi era. (She had denied his involvement, but was later confronted with information about his early membership in the Party and that his business had profited from an "aryanization".) She is reported to have said: "Why should I comment on something which happened before my birth?"
Footnote 2: The "Jüdische Zeitung" of November 2010 discusses an agreement between Katharina Wagner, who today runs the festivals together with her half-sister, and the Israeli Chamber Orchestra to perform her great-grandfather's Siegfried Idyll at Bayreuth next year. Ms. Wagner has announced to open the archives for a study which would frankly discuss the relationship between Richard Wagner's descendants and the Nazis. At last, one might say, but don't we know more than enough about that already?
No tags
August Thyssen Hütte, Duisburg, View from the Blast Furnace Copyright: www.Stahlseite.de
Gert Krell
Postscript, part 1
The famous steel baron Fritz Thyssen (born 1873) had been the German industrialist who supported Hitler most enthusiastically, financially and politically, even before 1933. Early in 1933, he joined the Party and became a deputy in the Reichstag for the NSDAP. Yet Fritz Thyssen also became the only major German industrialist to oppose Hitler openly. His disillusionment began with the so-called Röhm-Putsch in 1934 and its brutal "cleansing" by Hitler and the SS. The Nazis' pressures on the Catholic Church and the pogroms against the Jews in November 1938 pushed him into opposition against the regime. He talked to friends and to generals about the possibility of bringing Hitler down.
When Fritz Thyssen was summoned to one of the symbolical sessions of the Reichstag on September 1, 1939, which could only mean signing on to the war by acclamation, he cabled to Göring that he could not join the meeting and that he was against the war. Hitler announced that German troops had marched into Poland and added that whoever was against him would be treated as a traitor. The Thyssens knew they had to leave Germany and went to Switzerland.
At the end of September, the Nazis signaled their former model industrialist that he would remain free of punishment if he returned. But Thyssen wrote long letters to Göring and Hitler, in which he called himself a political adversary of National Socialism and stated that he would not come back. He accused Hitler directly: "You are driving Germany into the abyss, and the German people into ruin. Change your course as long as it is still possible. Give the Reich a free parliament, give freedom of conscience, of thought and of speech back to the German people. Provide the required guarantees for a reintroduction of law and order." (Thomas Rother, Die Thyssens, Frankfurt/New York 2003, p.98, my translation. Note the somewhat strange idea that Hitler had even taken the conscience and the freedom of thought from the Germans.) And Thyssen had his letters published. The Nazis confiscated his assets and renounced his and his wife's German citizenship.
In 1941, on their way back from Brussels, where Fritz and Amélie Thyssen had visited his mother on her deathbed, they were caught by the Vichy-French police shortly before embarkation to Argentina, and handed over to Nazi-Germany. Göring offered Thyssen to renounce his break and to appeal to the Führer for clemency. When he refused, the Nazis put the Thyssens into a mental asylum and later sent them to Sachsenhausen, Buchenwald, and Dachau. In April 1945, the SS had orders to kill the Thyssens and other prominent prisoners, who had been brought to the village of Villabassa in South Tyrol. A German Army major prevented the executions.
Later the Allies sued Thyssen for his early support of Hitler, and he also had to go through German "de-nazification" procedures. He was in jail for some time, but in the end was acquitted. The British ordered the dismantling of the August Thyssen Hütte in Duisburg, but stopped it in the light of mass protests. The plants were rebuilt. Meanwhile the Thyssens had joined their daughter and son-in-law in Argentina, where Fritz Thyssen died in 1951.
No tags
Gert Krell
The Quandts' Silence, part 2
In his excellent book on the Quandts, another historian, Rüdiger Jungbluth, shows how their industrial empire profited from the general rearmament and the war, from the enforced industrial peace in Germany and from forced labor, including the labor of KZ prisoners. Their plants expanded, and many of them could be repaired or rebuilt and used again after the war. After 1945, like most other collaborators, Günther Quandt strongly denied his cooperation with the regime and his role in the war. In his farcical "denazification" procedures, he even depicted himself as a victim of the Nazis, and he got away with it. The Quandts kept silent about the past in their public statements or in their company publications. (In the acknowledgments to the documentary, Mr. Jungbluth is listed as an advisor, but he takes issue with several positions by the film-makers in a review of November 2007. He is still much more critical of the Quandts than the "revisionist" historian.)
Günther Quandt had no scruples when it came to an expansion of his business; he also profited from "aryanizations", as even the "revisionist" article admits. But how close were the Quandts to the Nazis personally? During his "de-nazification", the family claimed that Joseph Goebbels, since 1931 the husband of Günther Quandt's former second wife Martha, used their (Günther and Martha Quandt's) son Harald to blackmail him into the party. It is obvious that the two men did not like each other; Goebbels considered Quandt a "reactionary plutocrat". But the revisionist article embarrassingly uses an outdated and incomplete version of Goebbels' diary. According to a more recent and more complete version, Goebbels noted, shortly after January 31, 1933: "Quandt flowing over with servility. That comes from our victory." And in April 1933: "Received Dr. Quandt. He is quite subdued. Wants to join the Party." Quandt was accepted two days later, shortly before a stop for new applications became effective (see "Süddeutsche Zeitung" No. 252, 2010, p. 23).
The most important controversial issue is the question to what extent the post-war fortunes of the Quandts were based on or were a direct consequence of their exploitation of forced labor. One "expert" in the film strongly emphasizes the connection and the voice from the off repeats it. Yet Günther Quandt had been a major industrialist in the Weimar Republic already and would have remained one under any circumstances. He was an opportunist, who often profited from the bad luck or the suffering of others; but he also was a very good and clever entrepreneur. When his heirs bought BMW in 1960, the famous car-maker was nearly bankrupt. Its expansion and tremendous success in the following 50 years were based on other factors than the crimes of the Nazi era.
After the film had taken the air, the Quandt family for the first time reacted to their Nazi past officially. They welcomed the "light which had been thrown on something dark" and agreed to finance an independent study for which they would open the family archives; until its publication, which is now expected in 2011, they would keep silent. That is strange, because the KZ at Hannover-Stöcken had already been researched thoroughly in the 1980s.
In the meantime, the Quandts seem to have offered Carl-Adolf Soerensen compensation. (Their companies had already joined the "Stiftungsinitiative der deutschen Wirtschaft" in 2000.) He rejects it, because it comes too late, as he is quoted on the internet in a recent entry. But I think he is still waiting for an apology from the Quandts. In 2007, at the end of the film, he said he would accept it, although they had treated him so badly during the war and after.
No tags
Gert Krell
"The Quandts' Silence", part 1


I want to add one more case which has aroused some controversy recently. In late 2007, German TV broadcast a documentary by two journalists called "Das Schweigen der Quandts". The Quandts are famous entrepreneurs (they are best known for their ownership of BMW and Altana) and one of the richest families in Germany. The film, which has been praised lavishly and received several awards, focuses on the role of Günther Quandt and his sons Herbert and Harald in the Nazi era and the way the family has "kept silent" about it after the war. I have watched the film again; it is on the net and can be "googled" without expense.
German newspapers have now alerted readers to an article in a prestigious history journal which criticizes the film as one-sided and manipulative. Some papers repeat the accusation; others have called the article "revisionist". I have read it and I must say the author has a few strong points; I am a little less enthusiastic about the film than I was. But the historian is at least as selective in his discussion of the case as the documentary which he criticizes, and I find his attitude towards the surviving witnesses, who testify in the film, cynical.
One of them is Carl Adolf Soerensen, who was part of a group of 41 from the Danish resistance which the Gestapo caught in early 1944 and sent to the KZ at Hannover-Stöcken. This KZ was on the territory of AFA (Accumulatorenfabrik AG, renamed Varta in 1962), a leading producer of batteries and one of the Quandts' companies which used forced labor, including KZ prisoners. Working conditions were terrible and very dangerous, safety measures practically non-existent. Forced laborers did not even get masks to protect against lead fumes (AFA's German workers did), and Soerensen's group alone lost 6 men in the first three months. The Quandts had twice rejected offers of KZ prisoners by the SS, before they agreed to accept them. For AFA, they mostly came from the KZ Neuengamme, and for these workers the SS calculated a "turnover (i.e. death) rate" of 60 per month. Herbert Quandt was responsible for personnel at AFA and was also operational manager of their Pertrix company in Berlin which used, abused, and worked to death prisoners from the KZs Sachsenhausen and Ravensbrück.
Carl Soerensen survived but he has suffered all his life from the bad memories of "working in hell"; he is visibly overwhelmed when he visits the place over which grass has grown. In the 1970s, he had called on the Quandts on behalf of his group for a moderate sum of support. They were rejected and humiliated, as he says; he will not repeat his request for compensation, because he does not want to become a victim again.
This is what Sven Quandt has to say, one of the living heirs of a huge fortune, including AFA/Varta which he directed for a number of years, and the only one from the family willing to be interviewed for the film and to address (or rather not to address) the dark side of their history: "The problem of Germany is that we cannot forget, but we must forget all this; it does not advance Germany. Other countries have done similar things, but they just don't talk about it. At least it does not have a negative touch there. With us, it always has this negative touch." Later he adds: "What do I have to do with all this? Did I live then?"
There is a memorial in Hannover, honouring the victims of the KZ at Stöcken, paid for by tax money. It is not where the KZ was, because the Quandts did not allow it to be built there.
No tags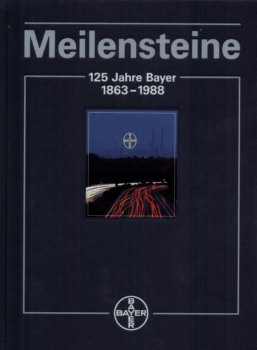 Gert Krell
I.G. Farben and Bayer, part 3
In its huge 125th anniversary volume "Meilensteine" of 1988, its most recent quasi-official company history, Bayer celebrates its many undeniable successes on more than 600 pages. About two percent of the book is devoted to the company's more critical "contributions"; even that was not common practice yet at the time. The "Milestones" point out that the chemical industry had not favoured World War I, but they also mention how much it became involved in it: Bayer was the greatest German producer of explosives, and Carl Duisberg, an industrial genius and the founder of Bayer Leverkusen and co-founder of I.G. Farben, the member of a commission on chemical weapons. In another Wollheim Memorial paper I read that Duisberg also was an ardent supporter of their use, of the employment of forced labor, and of the "total war" strategy, and that he schemed against more moderate factions in the government, but I have also been told that his role in WW I is controversial. I don't think any of this was ever discussed at the Carl-Duisberg-Gymnasium, a grammar school at Leverkusen which both my brother and I attended.
As for the Nazi era, the book, to the editors' credit, quotes a long passage from the Nuremberg verdict on the exploitation of forced laborers at I.G. Farben-Werk Auschwitz and it admits that thousands of Jewish prisoners who worked there "came to death". It does not mention, however, the shameful ways in which representatives of I.G. Farben tried to avoid compensation. When Norbert Wollheim, the first Jewish-German forced laborer from Monowitz to charge I.G. Farben (in liquidation), the defendants claimed they had not known anything and that the SS alone had been responsible. One of them even pretended the forced-labor camp at the building site (un- or underheated, hopelessly overcrowded, with inmates seriously underfed and underclothed and under incredible, in many cases murderous workloads) had been a kind of "recreation camp". The jury of the district court in Frankfurt wrote in their verdict of June 1953: "The statements by the accused company and their people display an appalling indifference towards the plaintiff and the imprisoned Jews; an indifference which one can only understand, if one assumes – in accordance with the plaintiff – that the accused and their people indeed had not, at the time, regarded him and the Jewish prisoners as full human beings (my translation)."
In 1957, I.G. Farben (in liquidation) and the Jewish Claims Conference agreed on a lump sum of 27 million DM for compensation of Jewish forced laborers in the Auschwitz region. After that, other claimants faced big hurdles. Far into the 1990s, Bayer, BASF and Hoechst – like Lufthansa – insisted they were no legal successors of I.G. Farben, and rejected most further demands for compensation. In 1999 at last, when new collective claims from the US threatened the companies' business strategies and their image, they all joined the "Stiftungsiniative der deutschen Wirtschaft" for the compensation of forced labor. By then, not many potential claimants were still living. At least, Bayer seems to have been more generous than others in a number of individual cases, and it offers free access to its large and well-attended company archives.
The "Milestones" point out that when he met Hitler in May 1933, Carl Bosch, the Nobel prize chemist and one of the foremost leaders of I.G. Farben, protested against the anti-Semitic campaigns; an expulsion of the Jews would set German chemistry and physics back a hundred years. Hitler answered: "Then we will do without chemistry and physics", and had the "Geheimrat" ushered out of the room. That is an historical fact, but the book does not mention that, towards the end of the 1930s, Carl Bosch became more depressed and turned to more alcohol than ever. He realized that he had concluded a pact with the devil, and he feared that the war was a direct consequence of his inventions and his entrepreneurial activities. In February 1940, he left Germany and moved to Sicily. A few months later, he told his doctor on the death-bed that Hitler's madness would lead to the ruin of both Germany and I.G. Farben.
The "Milestones" also do not tell us that one, or only one, of the I.G. Farben managers took the necessary steps: After his second visit to the I.G. Farben plant at Auschwitz, Hans Deichman, who had been ordered into Krauch's Italian bureau, sabotaged the further transport of Italian workers and joined the Italian resistance group of "Giustizia e Libertà". As for the medical experiments, the jubilee book says that I.G. Farben stopped delivering drugs for medical tests when they learned that the SS were using them in unethical and illegal ways. This is an argument which the defendants used and which they got away with. As I have mentioned already, it does not seem to be the truth, at least not the full truth.
The Poelzig-Bau, as the former I.G. Farben building in Frankfurt is called today after its architect, also hosts the Fritz-Bauer-Institute which engages in research and education on the Holocaust. It has an association of supporters, of which I have now become a member.
No tags
Gert Krell
I.G Farben, part 2

Before 1933, the Nazis had not liked I.G. Farben, it was too "Jewish" for them, nor had I.G. Farben been pro-Nazi. That changed quickly. I.G. Farben brought itself into line with the regime, beginning in 1933; a process which some in the literature call self-Nazification and self-militarization. "Never before in the history of warfare had an industrial trust and one industrialist (Carl Krauch from the I.G. Farben's board of directors) occupied such an important position in the military planning and preparation of a major war." (Joseph Borkin, Die unheilige Allianz der I.G. Farben, Frankfurt/Main 1990, p. 74; my re-translation. The original English version has quite a different title: The Crime and Punishment of I.G. Farben.)
Since 1938, the trust expanded its empire across Austria and Bohemia and in the conquered and occupied countries, working for a European "grand economic sphere" under German domination. Jewish companies were "aryanized", their Jewish managers and "non-Aryan" workers dismissed, on the spot and without compensation. Isidor Pollak, a leading manager of the formerly Austrian Skoda Wetzler AG, was kicked to death in the street by SA men.
I.G. Farben used and abused foreign workers, most notoriously in Monowitz near Auschwitz where thousands of mostly Jewish laborers were worked to death or sent into the gas, after they had been exploited until break-down, during the construction of Buna IV, supposed to become the world's largest chemical plant. There is enough evidence to state confidently that the senior managers involved knew what was going on and that I.G. Farben personnel participated in the brutal exploitation and maltreatment of KZ prisoners on the building site. One of the recent online papers on I.G. Farben from the Wollheim Memorial says there was also ample evidence that a number of I.G. Farben chemists and pharmacologists (mostly from Bayer, Hoechst and Behring) cooperated with SS physicians in the KZs in lethal or harmful medical experiments with healthy and non-consenting "test persons".
In the Nuremberg trials, several senior managers from I.G. Farben were sentenced to a couple of years in prison for plunder or illegal acquisitions and for cooperation in slavery and mass murder. They were acquitted as far as the preparation of a war of aggression was concerned. Josiah Dubois, the Chief Prosecutor, was furious about the verdict, which he considered light enough "to enjoy a chicken thief". The Nuremberg trials no longer fitted into the new political landscape of the Cold War anyway. Soon all former I.G. Farben managers were free men again. In 1955, Friedrich Jähne, whose son had been a witness against his own father, was elected chairman of Hoechst's board of directors; and in 1956, Fritz Ter Meer, the only defendant to be sentenced for plunder as well as enslavement, became chairman at Bayer. Karl Wurster, highly decorated by Hitler as a "Wehrwirtschaftsführer" (a leader of the arms industry), had been acquitted in Nuremberg and became chief executive of BASF in 1952. Carl Krauch became a member of the board of directors at Chemische Werke Hüls, another successor company.
No tags
Gert Krell
I.G. Farben and Bayer, part 1
A group of historians has published a brand-new major study on the role of the "Auswärtige Amt" in the Nazi era, initiated by Germany's first post-war generation Foreign Minister, Joschka Fischer. It turns out that the German Foreign Ministry had been involved much more deeply in the criminal activities of the Nazi regime than generally assumed, above all the persecution and murder of the European Jews. And after the war, the Auswärtige Amt had, until quite recently, suppressed knowledge about the activities of many of its former and current personnel and protected perpetrators. As the historians say, they are presenting "a typically German, a paradigmatic history" (Eckart Conze/Norbert Frei/Peter Hayes/Moshe Zimmermann, Das Amt und die Vergangenheit, Munich 2010, p. 21).
I am shocked but not surprised; the pattern is too familiar for all German institutions, public or private, even if there remain legitimate controversies about the causes of collaboration or "Selbstgleichschaltung" (active assimilation) ranging from convenience and opportunism to concurrence and enthusiasm. This is what a study about "Careers in Twilight: Hitler's Elites After 1945" has to say about German industry: "Never before had a war been as 'total' as World War II, when the economy had comprehensively served the purposes of arms production, granting German companies big profits. They had not only offered their services to the war effort, but had also taken an active part in the plundering of occupied territories. They had widely used the manpower of forced laborers and of KZ prisoners and literally worn hundreds of thousands to death. The lines between individual companies, the weapons bureaucracy, and the NS government had become more and more blurred (Norbert Frei, ed., Karrieren im Zwielicht, Frankfurt/Main 2001, pp. 74-75, my translation)."
I ask myself why I had never before taken a closer look at Bayer's role in this, a major part of the I.G. Farben trust until it was dissolved by the Allies. I grew up at Leverkusen, within sight of the Bayer cross, illuminated at night by thousands of light bulbs. In the 1950s and 60s, we could still smell Bayer and touch it in the coal dust settling on the window sills. As a boy I borrowed books from the Bayer library, and my elementary school was the "Volksschule Bayerwerk". I used to earn my pocket money at Bayer during my student holidays, and my father and my brother worked at Bayer until their retirement.
In 1986, I missed the four parts and more than eight hours series "Väter und Söhne", a TV event of the year. It has never been discussed in my family, although my father was still alive and well then. It is a fictional but, as far as I can tell (I have seen it now, it is available on DVD in German and English), essentially honest story of I.G. Farben from World War I to the Nuremberg trials, which it condenses, by way of collage, in two families. And in 2001, major parts of my university, although not my faculty, moved into the huge former I.G. Farben building in Frankfurt, a famous architectural jewel of the city and the headquarters of the US Army from 1945 until 1991. The new campus hosts the Wollheim Memorial, an exhibition about I.G. Farben's exploitation of Jewish and other forced labor, which I still have not seen yet (my wife has!).
No tags
Gert Krell
The Jewish Museum in Berlin has started an important exhibition, probably the most important one after the so-called "Wehrmachtsausstellung" in the 1990s. It shows that the forced labor of millions of people from all over Europe, in different categories of use and abuse, was an integral part of Nazi violence and was "a public crime", organized by the state and accepted by the German "Volksgemeinschaft". Many were worked to death, and for many, especially Jews, work was used to kill them. Compensation, if at all possible, has come very slow and very late. Forced laborers from the Soviet Union were considered collaborators by Stalin and often ended in the Gulag. For much too long, the German state and German companies did a lot to deny or neglect the issue. My wife and I have not seen the exhibition yet, but we will. In the meantime, I would like to give three examples I have studied.

2) Lufthansa
In late July, Arte, the German-French educational channel, broadcast a documentary in prime time about Lufthansa's role in the Nazi era. Luft Hansa, as it was called originally, was founded in 1926, and in the 1930s it became the largest aviation company in the world.
Very early, Deutsche Bank and Lufthansa connected with Hermann Göring and subsidized him. Lufthansa also provided Adolf Hitler with a Ju 52 (the famous Junkers Ju-52 aircraft), thus granting him a great advantage over his competitors in his electoral campaigns. In 1933, Erhard Milch, the youngest member of Lufthansa's board of directors, became Göring's Deputy in the Ministry of Aviation and thus the master of civilian and military aviation in the Third Reich. When doubts arose about Milch's "half-Jewish" background, he "sanitized" his genealogy, and Hitler officially confirmed his "Aryan" status. Erich Schatzky, the technical genius at Lufthansa, was dismissed in 1933 because he was Jewish. He emigrated to the United States, where he helped design the aircraft which defeated Hitler.
Lufthansa soon engaged in training scores of young pilots (illegally), and it took on a new motto: Fliegen lernen heißt siegen lernen. (Learning how to fly means learning how to achieve victory.) In 1936, the Ministry of Aviation decided that, in case of war, Lufthansa would repair all military aircraft. In 1939, Lufthansa was already short of labor. Between 1939 and 1945, the company employed more than 10.000 forced laborers, mostly from Poland, Ukraine and Russia, most of them in its repair factories. (In the Nazi era, Germany used or rather abused at least 10 million forced laborers, about the same figure as the total number of transatlantic slaves over several centuries.) Work was very harsh, and many surviving workers suffered permanent injury. Lufthansa also used children to work inside of aircraft wings. Its profits soared.
At the Potsdam Conference, the allies declared Lufthansa a prohibited Nazi organization and dissolved it. So when in 1955 West Germany founded a new large aviation company, it was a different firm, in legal terms. That is why today's Lufthansa rejects any responsibility for what the old Lufthansa did. The new Lufthansa has joined the public-private fund for the compensation of forced laborers, but only very few of the former "employees" of the Nazi firm ever received any money. (The film includes several interviews with survivors.) One of the problems is documentation. Many former forced laborers either had no documents or they destroyed them, because Stalin regarded all forced laborers as "collaborators" whom he treated as traitors and often had killed.
Today's Lufthansa has a large archive, but it has never published any names of forced laborers. It uses the old Ju 52 in representative flights, it bought the name and the logo from the old Lufthansa and it took over several people from its staff. In fact, one of the founding members of the old Lufthansa, Kurt Weigelt, also became a founding member of the new one. In the 1930s, he had been a high official in the NS Colonial Office, and he was one of the 42 most influential industrialists of the Nazi era.
The few remaining forced laborers cannot forget the dark side of their past. Lufthansa does. It could open its archives and officially take note of the men, women, and children whom its de facto predecessor so brutally exploited. It could publish the manuscript which a historian has written on its behalf about Lufthansa and the Nazi era, which you can only get a copy of if you write to Lufthansa. Lufthansa could accept its share of responsibility for Germany's Nazi past, in which it has played a very dark part. So far it doesn't.
No tags
Gert Krell
The Jewish Museum in Berlin has started an important exhibition, probably the most important one after the so-called "Wehrmachtsausstellung" in the 1990s. It shows that the forced labor of millions of people from all over Europe, in different categories of use and abuse, was an integral part of Nazi violence and was "a public crime", organized by the state and accepted by the German "Volksgemeinschaft". Many were worked to death, and for many, especially Jews, work was used to kill them. Compensation, if at all possible, has come very slow and very late. Forced laborers from the Soviet Union were considered collaborators by Stalin and often ended in the Gulag. For much too long, the German state and German companies did a lot to deny or neglect the issue. My wife and I have not seen the exhibition yet, but we will. In the meantime, I would like to give three examples I have studied.
1) Züblin and Frankfurt/Main Airport
In 1944, the Nazis needed a new runway for their jet aircraft Me 262, one of Hitler's "Wunderwaffen". So the SS selected 1700 Hungarian Jewish women, many of them still girls, and sent them from Auschwitz to a newly erected labor camp in the forest of Walldorf near Frankfurt, where they were forced to build it. The construction firm in charge was Züblin, a company which still exists. Because of the war situation, the Nazis dissolved and destroyed the camp after a couple of months and sent most of its inmates to the KZ Ravensbrück, others to Auschwitz. Of the 1700 girls and women only about 200 survived, all the others died from exhaustion, hunger, disease, violent maltreatment, or in the gas.
For about 30 years, the camp was no issue in Walldorf. Collective denial persisted until a group of pupils discovered the name of their home town on a detailed map of the Nazi net¬work of KZs, and found traces of the camp on old aerial photographs and in the forest. They published their findings in a brochure and demanded from the community to build a memorial stone. After four years of debate, a majority of the city council finally agreed. (See also our blog "My Friends, my Generation")
In the 1980s, Walldorf decided on a new conception of their "Heimatmuseum" which would explicitly address the Nazi era. In fact, the "Rollbahn" and the fate of the 1700 women in the camp would become its center. In 1997, two classes of pupils traveled to Pápa in Hungary, where several surviving women of the Walldorf camp had come from. When they discovered that the synagogue there, once one of the best-known in Hungary, was in very bad shape, they had the idea to ask Züblin Company to renovate it. Züblin never answered their letter.
When Züblin later celebrated its 100th anniversary, two former pupils from Walldorf distributed leaflets, asking Züblin to take responsibility, to send letters of apology, and to pay compensation to the Hungarian women. The head of the board of directors' public response was: "Züblin has had no financial advantages from this building site, from this 'Einsatz' (he did use this term), so we do not see any reason for financial compensation." When the pressure increased and the case was discussed in major news sections of the media, Züblin finally agreed in May 2000 to join the newly established government-industry foundation for the compensation of forced labor.
In November 2000, 19 survivors landed at the airport whose first runway they had once been forced to begin, invited by the city of Mörfelden-Walldorf and by Rhein-Main-Airport. Although it was not easy for them to be confronted with their past again, they felt they saw Ger¬mans different from the ones they still had in their heads, as one of them said. Apart from their sad memories, there was one other big drop of bitterness: Züblin still was essentially absent. They had sent a representative, but when the women addressed an improvised speech to him, protesting that the company still did not accept responsibility for their complicity in the terror and death machinery of the Nazis, he only said, all he could do was to listen to them and to their stories.
Finally, the city of Walldorf and the groups involved in the project opened, in the presence of the visiting survivors, a "path of education" in the forest where the camp once stood, providing information about it and about its victims. At this occasion, several people simultaneously and in parts read out all the names of the 1700 women. On my copy of the film I can understand: Jacobovitch, Lebovic, Ausländer, Eichner, Blau, Berkovic, Weisz, Wassermann, Riesebach, Klein, Kleinmann, Rosenberg, sometimes the same name twice or even more often with different surnames.
No tags