CAT | Building Bridges
Gert Krell
We then left the center of the city to the south, in order to visit Bessungen, the district where my grandparent and my parents had lived during the war and where I was born. We first went to see the Viktoria School, my mother's former grammar school which still exists – much larger today and co-educational. It has a small memorial from 1997 commemorating four Jewish girls who were murdered under the Nazis. I found the pyramid by chance, after we had walked around the whole building and also searched the large schoolyard in vain. (The school itself was closed because of the fall vacations.) It is on the front side, partly hidden by brushes and little trees.
The inscriptions say: Four Names for Many – Liese Juda, Erika Dahlerbruch, Anneliese Trier, Irmgard Schaefer; and on the other side: Against Oblivion and Indifference. I thought I had heard the name Irmgard Schäfer from my mother before, but it is a very common (and very "German") name. When I asked her, she told me she had not known her or her name. She had had two Jewish classmates who both survived, because their families emigrated in time.
Our next stop was at Paulusplatz (Paulus Square), which is in repair. It has a Protestant Church on one side, almost literally like in Luther's famous hymn "A Solid Castle Is Our God", and a huge administrative building on the opposite. In the middle of the large meadow in between stand two steles, representing Christianity and Judaism. They were made by the Israeli sculptor Igael Tumarkin in 1990/1992.
The inscription on a separate plate says: The two steles represent Isaak's sacrifice and Jesus' crucification, thus expressing the fundamental experience in the Jewish as well as the Christian faith of their fright before the living God. I did not like the text when I first saw it, and I like it even less now that I have read Carlo Strenger's new book on Israel. (Strenger, who grew up in Switzerland, is a psychology professor and a writer; he lives in Tel Aviv.) It is a wonderful "introduction into a difficult country" (his own words), empathetic yet also critical and skeptical. He thinks that one of the major causes of conflict in the Middle East is the absolute obedience to God (or rather the respective Gods) in the three major monotheistic religions, making man even sacrifice his loved-ones or himself. Christian (today mainly US evangelicals), Jewish, and Muslim fundamentalists in this tradition have been and still are a central obstacle to peace in the area.
I much prefer the interpretation given in the text from the internet page on the memorials of the city of Darmstadt: The two steles stand separately and unconnected, but they are also close together, representing both their individuality and their dependence on each other – a sign of Christian-Jewish reconciliation.
No tags
Back to the Roots at Darmstadt, part 1
Dear Fern
Last week, on Friday, November 21st, 2011, we went to Darmstadt, where I was born more than 66 years ago. It is only 35 miles south, but we don't go there often. The city's cemetery office had notified my mother that her parents' urn grave would soon be closed down and asked whether we wished to keep the plate with the inscriptions. The family decided to get it and put it on the grave at Hofheim, where Irene's parents and our first child are buried. Irene suggested that we also visit some memorial places, official and personal, in the city. We went to the Waldfriedhof first, which comes right after you leave the Autobahn to get into Darmstadt. It is a very large, well kept cemetery with many huge pine trees.
We picked up the small grave plate with the names and dates of Karl Grund and Gretel Grund, my grandparents. We then drove on past the Hauptbahnhof (Main Station) to the area of the old Güterbahnhof (freight station). We wanted to see the "Denkzeichen Güterbahnhof" there.
"Denkzeichen" is an artificial term, with associations of signal, sign, thinking, and memorizing. It was built by a private initiative and opened on November 11, 2004. It is a big glass cube in light green on tracks leading nowhere on one side and to a buffer on the other. Inside are big pieces of glass in different triangular shapes with names on them (I could only see one name) – representing the Jews or Sinti whom the Nazis used to collect at the Gueterbahnhof to send them to the camps and to death – your grandparents Siegmund Westerfeld and Frieda Westerfeld from Stockstadt among them.
In the night of July 9/10, 2006, the "Denkzeichen" was attacked and the glass on three sides violently damaged. These sides are now full of cracks but the memorial has stood firm.
No tags
Fern Schumer Chapman
You and other German friends of your generation have said to me: "You are fortunate; you don't have to wonder about your parent, and in turn, yourself. She did nothing wrong. She was a victim. But I am the child of a perpetrator and I must ask myself, if he or she could commit those crimes, then who am I?"
We, as children of survivors, have all the complications of being raised by parents who were defined and scarred by devastating traumas. While some of your peers terminated your relationships with parents because you could not accept who they were and what they did, some of my peers distanced themselves from their parents because they could not maintain a relationship with such a needy parent. We have been cast in the role of filling our survivor parents' unmet needs and, when we determine that those needs are unrealistic, we feel guilty for saving and protecting ourselves.
Both children of survivors and perpetrators seem to struggle psychologically with similar parent/child issues. We have difficulty individuating from our parents. Individuation, as defined by C.G. Jung, is a process of psychological differentiation, having for its goal the development of the individual personality.
"In general, it is the process by which individual beings are formed and differentiated,'' Jung wrote. "In particular, it is the development of the psychological individual as a being distinct from the general, collective psychology."
What is different about our experiences is that few of my friends were raised by survivors, even though I lived in a community that had one of the largest survivor communities in the country — 8,000 of the 60,000 residents were Holocaust survivors. The experience of being raised by the child of a survivor, especially an escapee, was unique and alienating. I couldn't understand my mother and I didn't have anyone I could talk to about the experience. In addition, because she never spoke of her past, I didn't really understand the depth of her pain and why she behaved as she did.
I imagine growing up in a country brimming with guilt defined you and your generation's self concept and identity as Germans. It is a broad stamp upon an entire nation and it is unique to the Holocaust.
No tags
Gert Krell
I was moved very much by what you said; it goes to the heart of my personal legacy of the Nazi era and the holocaust. Of course, I am completely innocent legally, as innocent as a baby born after the collapse of the "Third Reich" and the liberation of the survivors in the camps could be. Politically and psychologically, the situation is much different.
Let's begin with politics. Ever since I had watched Erwin Leiser's "Mein Kampf" as a pupil, I knew what had happened. This documentary was the best "re-education" I could have. So start from scratch, learn about and condemn what the Nazis had done, become a good democrat and an anti-racist, work for peace, reconciliation, human rights.
One of the problems is that this also meant you had to distance yourself from your parents, at least to some extent and in very many cases. I have friends, who did that literally. One of my roommates from student years had left his home when he was 17 and from then on lived on his own, without any support from his father, whom he literally fled, because he wouldn't give up his Nazism. (Today, he is, by the way, married to a Jewish-American.) My wife's best friend also cancelled any relationship to her father since he left the family and divorced her mother with three children, because he also was an unrepentant Nazi.
I remember scenes in a workshop with children of survivors and perpetrators, when several Germans, whose fathers had been severe Nazi criminals, desperately tried to establish at least some connection. The therapist gave them three chairs to address: one with the Nazi criminal, the second with the harsh and authoritarian father, and the third with his loving side. (Even bad criminals have this loving human part in them.) Only after these scenes could Michael, a Jewish-German who was born in Israel but had gone back to Germany with his family (because his father missed his old "Heimat" so much ) begin to relate to us non-Jews in the group.
We wanted to be different, as different as possible from the Nazi generation, our parents, and in the end we believed we were.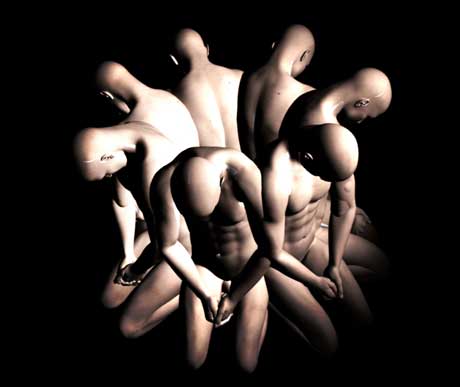 Unfortunately, you cannot change the mentality and psychology of a whole nation just like changing a shirt. There are strong subtle psychological currents underneath which bind even those to the past who are seemingly moving in a completely opposite direction.
Take the Red Army Faction, who fought against the "Fascist" Bundesrepublik Deutschland, which was said to turn a new "Auschwitz" on them. Their vocabulary seemed to have changed radically, but their attitude towards other human beings was not much different from that of the Nazis. You can also find disturbing continuities in their anti-Semitism, which they disguised under an anti-American and anti-Israeli anti-imperialism.
Well, that was the drastic variant of the legacy for my generation. I was luckier in many ways. My parents had been true believers and youth and student activists, and my father probably spied on his colleagues for the party, but they had not been involved in the war and as far as I know not committed serious crimes. And they both repented. (How and to what extent is an interesting story. At this point, I only want to remind you that my parents divorced and my father left the family, when I was five.) I also left the 68 movement, before parts of it turned violent. Even then, I had to do a lot of working-through the past, and not just on the intellectual level.
We weren't guilty, but we grew up in a country full to the brim with guilt, probably more than any other in history. And we discovered that those who were responsible for the crimes or at least implicated in them, often did not accept that guilt. So in a way the guilt was "floating around", and many in my generation took a small part of it upon themselves. This can be dangerous in several ways, and it is not as generous as it may seem at first glance.
No tags
Fern Schumer Chapman
During our initial discussions about collaboratively writing this blog, you weren't sure you wanted to participate. At one point you wrote to me, "And the offspring of the offenders should not take on guilt for which they are not responsible…So I need to find out whether I really want to join the new blog project, and learn to say no to you, if I don't, without feeling guilty."
I was surprised that you continue to feel so guilty, that it would be a factor in writing this blog, that you felt you couldn't say 'no' to me simply because I am the daughter of a Holocaust survivor.
I want you to be my friend without guilt. In fact, I replied to you, "You are not guilty!"
I strongly disagree with Biller's statement that he could not be friends with such a person because he cannot separate a human being from his history. In fact, it seems critical to me that we separate a human being from his history; it's important to understand how history shaped that person, but that history alone doesn't define the individual.
Interestingly, after my mother read Motherland, she asked for only one change. In the book, I had quoted my mother's old friend, Mina, as saying, "Some of your classmates were Nazis." Then Mina named names. When my mother read the book, she asked me to change the quote to say, "Some of your classmates' parents were Nazis." My mother said that the classmates were only 12 years old at the time and they should not be identified that way. My mother was trying to separate the individual from the history.
To do that, we must build Alexandra Senfft's bridge between us, where we can meet again and again and exchange views and experience. This blog is that bridge.
No tags
Gert Krell
The magazine of the Süddeutsche Zeitung, my favorite daily newspaper, recently carried a long and fascinating interview with two famous Jewish-German writers: Henryk M. Broder and Maxim Biller. The interview is a kind of intellectual fighting match, full of humor, wit, and irony, focusing on their work, their roles and identities, and their relationship (which hardly seems to exist). I know Broder better than Biller, he regularly comments on politics and culture in Germany, often harshly, yet almost never boring.
In this interview, Broder mentions that he had once been friends with the son of a bad Nazi criminal. The "funny thing" about their relationship, Broder says, was that his non-Jewish German friend had ablutomania (obsessional washing) and he had asthma (Broder's father had survived Auschwitz.): "There we faced each other. I was gasping for air with my aerosol, and he was constantly on his way to the bathroom to wash his hands. That his father had been a Nazi criminal had not harmed our friendship (SZ Magazin, 50/2009, p. 18)."
Biller responds that he could not be friends with such a person, because it was impossible to separate a human being from his history. He would either feel unnerved by that person's urge to compensate, or he would suspect that he secretly harbored thoughts similar to his father's.
This exchange made me think why you trust me. As I know from Motherland (your book about your first trip to Germany, the original home of your mother), you had been quite skeptical about my country; but you also relate positive experiences. And when you returned to Germany with your mother in 2006 for a lecture tour which my wife and I — together with old friends of yours and new
friends of ours — had arranged for you, you told me that you had found a different Germany, much more open and more willing to face its evil past. Of course, since then the trust has also grown through our correspondence.
Currently, I am reading a new book by Alexandra Senfft: Fremder Feind, so nah: Begegnungen mit Palästinensern und Israelis, Hamburg 2009 (something like Enemies, Unknown and yet so Close: Exchanges with Israelis and Palestinians). Ms. Senfft is a journalist, who has worked for the German Bundestag and for the UN. She is also a granddaughter of Hanns Ludin, Hitler's representative in Slovakia, who was responsible for the deportation and annihilation of the Slovak Jews and was hanged in 1947. In her first book, Schweigen tut weh (Silence Hurts), she describes the difficult and torn life of her mother (she finally burnt to death in a steaming-hot bathtub), the eldest daughter of Hanns Ludin, who knew that something had been wrong with her beloved father but did not or could not openly challenge the family secret.
Alexandra Senfft participated in the late Dan Bar-On's workshops on reconciliation, which were based on the willingness to tell one's life's story and to listen to the stories of others: Germans, Israelis, Palestinians, and people from other nations. She now uses this method in her own work and in her interviews with Israelis and Palestinians who work for peace in the Middle East, several of them jointly, whatever their own bad experiences either from the Holocaust or the conflict in the region. She is friends with Yizhar Be'er, a former director of B'Tselem, the famous Israeli human rights organization. (Yizhar Be'er's mother survived Auschwitz.) Of course, their life stories, the stories of their families, were very different indeed, and yet there were some parallels, she says. A lot of things would never be compatible, yet they had built a bridge between them, where they could meet again and again and exchange views and experiences.
"The past is strongly present," Senfft quotes Yizhar Be'er, "even if we don't think about it or deny it. Instinctively, I have passed on my mother's experience to my own children. They suffer as third generation, without knowing it, and they will make their imprint on the next generation. Many Israelis still carry the legacy of the Holocaust in them and even today feel like refugees (pp. 182-183)."
She adds that we Germans also have generational transmissions. The experiences of World War II had still not been fully worked through, and many people still denied their relatives' complicity in the murder of the Jews. Even today, denial, complicity and shame subtly affect our society.
No tags